Women ankle boots, the ideal footwear in winter
We agree that a booty is not the most elegant footwear that we can wear, even when we refer to a spectacular heel boots, we would never think of going to a party or wearing them with a wedding look.
But for many of us it is the perfect footwear for day to day during the autumn and winter seasons. A comfortable ankle boots can be the ideal complement and our best ally to complete any look.
Surely you will agree that a woman's flat booties is your favorite footwear when we think about enjoying a weekend walking around the city or making a rural getaway. In my case, for these occasions I always have 'pisacacas' boots available, which although they are not the most elegant and distinguished women footwear, they are super comfortable and I find comfortable walking shoes highly recommended.
Although many of those who visit us in the physical store tell us that your perfect shoes for winter are women high boots. We love how many boots look, and one of our specialties are wide-leg boots, we believe that a boots can be much more practical and easy to carry on a day-to-day basis.
For example, heeled ankle boots are a type of footwear that fuses many of the advantages of shoes and high boots at the same time. A booty protects from the rigors and inclement weather in autumn and winter and they are as combinable as women shoes.
We are so convinced that they are the ideal footwear for the coldest seasons of the year, that we are not mistaken in affirming that women's ankle boots are for winter, as obligatory as women sandals for summer. There are even many regions, which due to the weather are the perfect shoes to wear them well beyond the winter months.
Comfortable woman ankle boots, our indispensable…
An ankle boot is a type of footwear that allows us many design possibilities. You just have to play with the imagination to find the perfect symbiosis to find comfortable and beautiful shoes at the same time.
On the one hand there are the heeled ankle boots, with designs designed to dazzle, and there are many women who have in this type of footwear an authentic fetish. It is true that heels always make our outfit look much more sophisticated.
But at Calzados Rosi we are obsessed with offering all our clients comfortable shoes, whether they are women shoes, such as women ankle boots... Because we are fully committed to the well-being, comfort and health of the feet.
Hasn't it ever happened to you? You are not sure which shoes to wear with a certain outfit, and when you wear your favorite comfortable boots you realize that you feel much safer and more comfortable with the look you have chosen. This happens because having comfortable shoes always gives us that extra safety and comfort, allowing everything else to go to the background.
Wedge ankle boots, flat ankle boots or heel ankle boots. Which are your favorites?
We have this great dilemma every season when choosing which models will be part of our online footwear catalog in the Fall-Winter collections. Regardless of trends and fashions, we are clear that they are always a key piece when we talk about women footwear in the winter season.
Although beyond the trends, we always try to offer a wide range of models, colors and styles, we always prioritize the comfort of all our ankle boots designs, whether wedge, flat or heel. So you can all find your ideal loot model.
Let yourself be captivated by our women ankle boots, with excellent designs and the quality that only footwear made in Spain can bring. As we always insist, we prioritize above all brands and manufacturers with the "Made in Spain" seal, we also take great care of the details and the quality of the leathers and the materials with which our models are made, to ensure that each booty is comfortable shoes that you don't want to take off.
Regardless of the style you prefer, choosing any of our women models, you will have the certainty of obtaining a comfortable and quality footwear, perfect to be part of your wardrobe, so that you enjoy them not only this winter, but during all the seasons will surely last for you.
In the Fall-Winter 2019/2020 Collection you will find endless models, styles and colors to find your perfect comfortable booty, but to make your choice easier we give you some clues of the essential trends this season:
- Flat ankle boots woman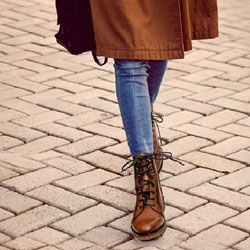 An essential style for many of us, here we can highlight the boots of mountain-style laces, with blunt floors and hooks.
Patent leather desert boots are still a safe bet, for comfort and style, certainly a perfect alternative to give color to your feet.
We also highlight the sport women ankle boots with zipper, a classic that is reinvented with new lasts and details such as elastics and combinations of pieces in contrasting colors. Good example are Laura Azaña boots.
The booty lined with hair one more season makes an appearance, helping to keep our feet warm on the coldest days of winter. In both models of laces, as in models with zipper and half-round designs, the booty lined with hair is a trend that has come to stay.
- Women wedge ankle boots
Undoubtedly the most sought after by all women who are looking for comfortable walking shoes, whether they are a low wedge booty, or models with a medium or high wedge, certainly represent the maximum comfort in the booty universe.
From the most trendy designs of Wonders ankle boots, with soles and platforms that lift us over a cloud thanks to the ultra light soles and wedges. Even comfortable booties of special width, designed to meet the needs of the most delicate feet.
Good example of comfortable ankle boots are found in models such as those offered by brands such as Pie Santo or Notton, with super wide lasts for maximum comfort. And with a very special detail: removable templates, something that many women who use custom templates need, if you are looking for removable insoles boots, do not forget to take a look at our special selection.
This season we continue betting on lycra booties with wedge, a design that many women have already tried and that is still a must in the Fall-Winter 2019/2020 season
- Women heel ankle boots
Another style that you can not miss every new winter season, a basic footwear to live the winter. Surely you can think of a thousand occasions in which to combine a booty with heel.
This season the black booty will remain the unquestionable king of the universe of heel models, with its different style and designs, it is undoubtedly an unavoidable piece in any female dressing room, very easy to combine and adapt to any style.
One of the trends that has been imposed more strongly within this category of footwear are the cowboy ankle boots or cowboy booty style, either in its most daring versions or in more discrete and timeless models, this winter you can not pass without have your booties.
And as in wedge ankle boots, the lycra booty makes an appearance with a heel, with the same comfort provided by the wedge version, but with the extra elegance that the heel provides to the tone. If you haven't tried them... you can't take it longer!
Ankle boots Made in Spain
As a primary rule, all women boots you will find in calzadosrosi.com are manufactured in a completely handmade way in Spain, with skins and high quality materials. Because in Calzados Rosi we are fully committed to Made in Spain, as it is a value that more and more women know and value. Because exceptional footwear is achieved with the best quality in raw materials and impeccable artisan manufacturing. Choose footwear made in Spain and you will notice the quality.
Have you found your booties for this winter? Do not miss this opportunity. and discover all the designs we propose.
Latest posts
Both models become essential for each collection, they are incredibly comfortable and very easy...