Tight shoes? Discover how to fix it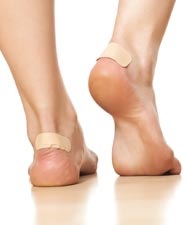 There is nothing more annoying that tight shoes, there are plenty of tricks to fit a pair of shoes at our feet when we adjust or tighten in excess, some more "professional" and other style "remedies of the grandmother", but all have their Foundation and sense, and should not underestimate any of them, because all we can serve. Here are several options, we know that there are many more ways, but we recommend them, because all they have them put in practice and we know that they are effective and safe, follow these recommendations your shoes will not suffer and you can enjoy them without problems
Widen your shoes with a professional last.
• The first choice to take serious account of wear the shoes to a store or to the cobbler "" neighborhood to make it appropriate to put the shoes in the last, we have to tell where tightening us shoe so the last apply more pressure in that area. Normally the shoes must be at least 24 hours in the last to make it effective, during that time pressure should be increased progressively, but professional takes care of this. To make it more effective "widened" once the shoes out of the last should use them as soon as possible, so that the skin of the shoe adapts our walk faster.
Dilators and chemicals.
• There are also chemicals that "widen" the skin of the shoe, but our experience tells us that it is not the best option, first because applying chemicals to the skin is not recommended andYou can get identical results with more natural and economic products.
Soften the skin with moisture.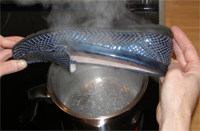 • Other way to widen the shoes is bringing moisture to the skin, this way we get that I will soften and dilate with easier and faster. There are several ways of applying moisture to a leather shoe, for example simply moistening the inside of the shoe with a wet cloth or throwing some water, always carefully and without "encharcar" shoe and then put it on and walk with him normally, well this option is for the summer, but in winter it is not very appealing, so we can make it otherwise; put the shoe on a container of water boiling water vapour to get the same effect and then put it.
• Putting the shoe in a plastic bag, leaving him one nightin the freezer and removing it just before you put them, you can get similar to the previous result, this option is not valid for Airconditioning...
Stretch Sandals strips.
• If you tighten the strips of a sandal You can adapt them easily if you rub them inside with body moisturizer and get them slightly damp feet (e.g. after showering) and with some moisturizer in the feet.
Advice home to yield footwear.
• You can make your sandals or shoes to cede more quickly if in addition to using any of the above methods put them with a few slightly thicker socks which you soles use and das some rides at home.
Better to prevent...
• A Council It seems very obvious, but it is quite important, is that if you have shoes reserved for an event determined (wedding, communion, dinner, etc.) you use them a few weeks or days before, so that the skin loses new sizing and thus to avoid chafing.
More doubts or suggestions? Call us now!
Must be taken into account that all These tips are for leather shoes, in the case of the sumptuous fabrics (satin, organizes, silk, etc.) must be very careful, if you apply water, cream or any other products, sincethat is could stain the fabric with ease. For these cases it is best that you ask a professional each specific case; If you want you can ask us a question in this regard, we are happy to help you to solve any doubt, just take a picture of the shoe and send it to us through our Customer service