The shoes that you are looking for you are waiting do you with them!
Is difficult not worship them shoes, are of the style that are: shoes flat, shoes's heel, shoes laced, shoes with laces, shoes loafers... Because is which is our style, the election successful of the shoe gets enhance any style, providing a touch special. But what is really important in a woman shoe is to allow us to walk comfortable.
Them shoes are one of them complements more important of the costume, as is converted in them protagonists of all our outfits. How many times have ruined a look to the not hit in the choice of the shoe right...
Choose the shoe that will look our feet in each time of the day is crucial, not only for our look is perfect and inspiring, them shoes charge vital importance if want that our feet not is resent, for this in CalzadosRosi.com do special emphasis in the quality and the comfort in all our collections of shoes.
If you already know that shoes will look tomorrow your feet you don't need to keep reading... But if like discover more about the wonderful world of them shoes here you give some tracks for hit in the purchase of your next shoes.
When talk of shoes of women the possibilities are almost endless, each new season them designersthey surprise us with collections that make us dream and it is very difficult to choose one model of shoe. Brands like Wonders, Laura Azaña, Tolino, standing Holy and a long list of brands that design and manufacture all their new collections shoes, set a range where to find the shoe that best goes with our style. Even with the difficulty of categorizing them different styles within the world of them shoes of woman, can make several large groups:


High heel shoes
As pointed out Marilyn Monroe "Not know who invented those heels, but the women you must much".
Here is where designers delight us, creating high heel shoes that manage to make us feel special and enhance our figure; because it really important of ones shoes's heel is the woman that them takes positions. Not fit doubt that the shoes of heel wake up vinculacion and desire, because they get to bring that touch of glamour to our most special looks.
A special mention deserve the estilettos, when we talk about Shoe heels either in its most glamorous and exclusive versions or the more classic and traditional styles, have become "uniform shoe" for many working women.
Them shoes's heel of brands as Wonders, are clear references of the design aimed to get shoes of heel comfortable. Their new collections always reflect the trends of fashion, but without forgetting that we are real women who use heels.
Shoes of bracelet or Mary Janes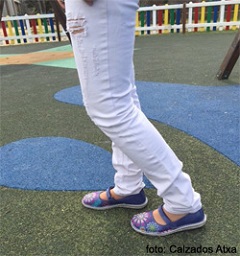 Within the firmament of shoes, we havewho devote a specific category to the Bracelet shoes or Mary Janes. Also are known as Gildas in the interpretations more elegant and sophisticated.
Shoes mercedes have gone through periods of greater or lesser glory, thanks to the vagaries of fashion, but without a doubt it is a type of shoe that exudes glamour and elegance, especially in high-heeled mercedes designs.
He fan of them different shoes to which is can be called mercedes is very broad, since include them versions more sport and urban, without nothing of heel. Until them designs more elegant that we can see in the catwalks of fashion. Nor can forget us of them versions of shoes more comfortable, where the comfort of the shoes mercedes with wedge and heels more low are the undisputed protagonists.
But whatever the style and design of the shoe mercedes, all saved a mark of identity that makes them special and unmistakable: everyone has one, or several bracelets that hug the instep or ankle. Is indifferent if the bracelet of the Gildas or shoes mercedes is buckle through buckles, velcro or button.
There are many women to which the shoes of bracelet them recall to their years of childhood. Not in vain the shoes mercedes are still beingone of them styles of shoe that more use them girls, already is as resistant shoes College either in them designs of shoes mercedes of dress for communion, weddings and in short those moments special.
Lace-up shoes
Them Oxford, Blücher or shoes of cords for women, are an approach of them classic shoes male reinterpreted by the world of the fashion female with lasts and designs chords to the foot of the woman and have left of be a style of shoe exclusive for use with pants.
Contrary to what might seem, Womens lace-up shoes can be as feminine as an estilettos or a pair of sandals, since heels have a style of such men's shoe, make an essential piece in the wardrobe of a woman.
As happens with other types of shoes, laced or lace-up shoes are transformedeach new season (both in spring and summer, and in autumn and winter) adapting to new trends in fashion with designs that range from the flat Blücher, to the laced heel and always with a wide color palette, something which no doubt further away shoes laces the image of classic male black shoe Womens.
The imagination of designers has made that the lace-up shoes for woman forming a new universe within the women's footwear, since the variety of designs, high heels and possibilities that we offer is so wide that we would find it impossible to not find a shoe with laces that fits perfectly with our style, whether the sportier versions of shoe laces, or in more sophisticated models with high heels and toes that make us dazzle.
Loafers
Of equal way that for them shoes of cords, them moccasins for women are a reinterpretation of a style of shoe typically male, although in this case them designs, ornaments and lasts not is differ both to simple view if compared a shoe moccasin of woman with a shoe moccasin of man.
Although may seem that the differences with them loafers for man not are appreciable, them loafers Womens they have evolved with the fads and fashions getting clearly differ from their male namesakes, with more stylized forms, colors and motifs that have become them in authentic jewelry.
A mention of special within the universe of the moccasins female deserve them "Castellanos" for woman sober and timeless style have withstood the vagaries of fashion positioning itself as a bastion of the footwear.
On the contrary that happens in other kinds of shoes for women, and partly due to the peculiarities of the style, loafers shoes do not have as much diversity of designs, predominantly flat, although also moccasins moccasins with cradle orwith a bit of heel.
Trends fashion, together with that today women with hectic and Marathon days, prefer more and more regular flat shoes. So moccasins have carved a niche in our dressing room, especially in versions more comfortable, to enable us to arrive at the end of the day with our feet more rested. Although without leaving of side the design, because always we like give that touch of originality to our looks.
As we mentioned previously, and all of us know, women have a long and grueling days, whether working at home or getting double inside and outside the home, why are more women who prefer flat shoes for our day to day, reserving the heels for moments and special occasions.
Them shoes flatis have become in our faithful allies, allowing that our feet can withstand our rhythm all the day and arrive to the night without the fatigue extra of have that take ones shoes of heel. And all this without sacrificing to hit with all our outfits, because today a shoe flat not is synonymous of shoe vulgar. Proof of this is that designers surprise us every season with new collections where the flat shoes have more and more presence.
Good test of the glamour that can remove a shoe flat are the ballets pumps, with designs, colors and details that we make dream... Because "sensible shoes" exist, designed to overcome 24 hours a day.
The options to choose a shoe flat are several: starting by them shoes of cords, in all its versions, from them more classic of inspiration British, until more daring with soles platform, dancers comfortable remain a safe bet when we talk about shoes, moccasins, Mary Janes or shoes style sport... as you can see it is difficult to not find a flat shoe that fits your style.
Laced shoes
Here it is necessary to make a subsection, since we are in a new dimension, to horse between what is considered a shoe and a booty, because the frontier that delimits each other is diluted and becomes a new concept of footwear. For some a loot cropped and for others a shoe buttoned, of any form is a type of shoe that is focused to the use essentially in the season of autumn-winter.
Them shoes laced have got that we dare to combine those ankle boots with skirts and dresses. The laced together the best qualities of shoes and boots, bringing the comfort of fit of each and the comfort and warmth of the others.
One of the advantages offered by laced shoes, or perhaps the most outstanding is that you can adapt without problems to use both with pants, where merges with the spoils, as the carry them with a skirt or dress, where really perfectly plasma its function of shoe.
As you can see the laced shoes have arrived to be a piece key in any dressing room female, if still not them have proven, you encourageto this next autumn-winter season you do with yours.
Shoes for comfort and wide special
We could not forget the more delicate feet, with special and extra comfortable wide shoes, because the real comfort, begins by being able to walk with a comfortable shoe.
Who has not suffered once for a pair of shoes? Well, since this section to that the days of foot pains are thing of the past, because with the experience, we learn that the power to use comfortable shoes becomes in real quality of life.
Today the use templates anatomical custom is very usual, due to pathologies own of the foot, by this them shoes with templates interchangeable is have developed each time more in a type of footwear more sued, all this without leaving of side the aesthetic, because want to be comfortable butnot decide not to follow the fashion trends.
For us it is a real pleasure to listen to the opinions of the women who tested for the first time a few shoes really comfortable, which allow them to rediscover the authentic pleasure of walking forgot discomfort, and always without sacrificing feel elegant.
If have waived to find a shoe comfortable by having them feet very delicate, rebel you! and found your shoes ideal between all the models of our collection of shoes special for feet sensitive.